by PIDC
May 28, 2020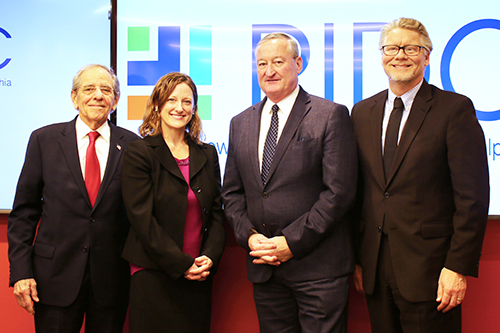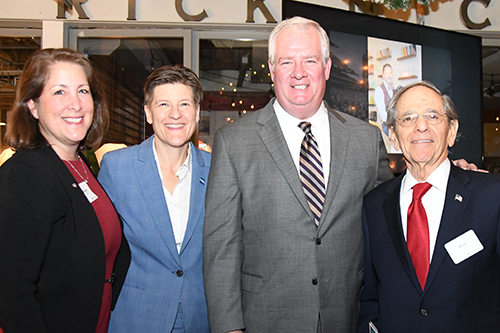 After 48 years of service to PIDC, M. Walter D'Alessio retired and chaired his last Board of PIDC meeting on April 21. Read our full Board Resolution here.
You Can't Say "PIDC" Without "WALT"
Walt arrived in Philadelphia in 1960, beginning an unprecedented 60 year career in planning, developing, financing, and managing major economic development projects in Philadelphia. He initially worked at the Philadelphia Redevelopment Authority where he became executive director; and became executive vice president of PIDC in 1972 and, during his 10-year tenure, he transformed the agency into the nationally recognized economic development force that it is today. Although in 1982, Walt moved into the private sector, where he began a successful career in real estate finance, he continued to play a major role in setting and implementing the City's economic development policy by serving as the chairman of the Board of PIDC.
Under Walt's active and engaged leadership, projects such as Market East, the Convention Center, the new sports stadiums in South Philadelphia, the Philadelphia Navy Yard, the Center for Healthcare Sciences in West Philadelphia, as well as the thousands of acres of job-creating industrial space in every corner of the City were successfully developed. One of Walt's most singular contributions to the City during his 60-year career has been the continuity and focus he's brought to Philadelphia's economic development strategy while working with nine mayors, six City Council presidents, and every possible economic and political environment.
PIDC thanks, honors, and congratulates Walt for his unparalleled career and matchless contributions to the prosperity and quality of life in Philadelphia.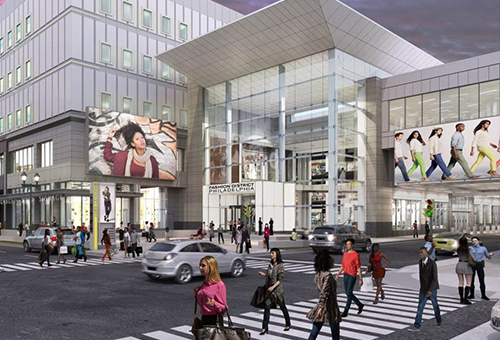 The Legacy Continues
While Walt has retired from his longtime board position as chairman of the Board of PIDC, his legacy continues with PIDC in various ways. In 2019, PIDC memorialized Walt's impact and influence on PIDC by naming our largest meeting room in our new office space, the "D'Alessio Board Room." Last year, we also launched the PIDC-Walt D'Alessio Scholarship Fund to support graduate students at Philadelphia schools seeking to pursue a career in urban development and finance. Earlier this year, PIDC announced the first winners of the PIDC-D'Alessio Scholarship for Urban Development –Cokie Mayenpu Nanka, PIDC's credit & portfolio management intern, and Jill Audra Schoenfel, PIDC's real estate services intern. Read more about our first scholarship recipients.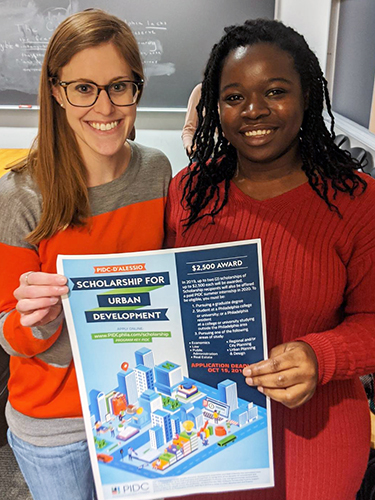 New PIDC & PIDC Community Capital Chairperson
We are thrilled to announce that longtime PIDC Board of Directors and Executive Committee member, Salvatore J. Patti, has been elected by the Board to serve as the new PIDC and PIDC Community Capital chairperson. He has also served the organization as a key member of PIDC's Loan and Audit Committees for many years. Sal has been with PNC Bank for the past 24 years, and currently serves as regional managing director for PNC Wealth Management, in the Philadelphia, Delaware and Southern New Jersey markets. Sal is responsible for leading a team of wealth management professionals committed to business development and relationship management initiatives focused on the needs of high-net-worth clients. Prior to assuming his current role, Sal was a senior vice president and market leader for the commercial banking segment. In addition to his PNC experience, Sal was an asset-based auditor, an asset-resolution specialist, and an accountant.
Sal serves on the executive boards for a number of charitable groups and community organizations, including The Police Athletic League, The Greater Philadelphia Chamber of Commerce Small Business Board, The Board of Elementary Education for the Archdiocese of Philadelphia, The Union League of Philadelphia, and PAWS, just to name a few. He has also been honored by The National Italian American Political Action Committee, and The Sicilian Confederation of North America. In addition, Sal was an honoree of The Philadelphia Pinnacle Award, The Variety Club Golden Heart Award, and The Center for Grieving Children. We're glad to have Sal's vast expertise as PIDC's new PIDC and PIDC Community Capital chairperson.
Sal earned a BA degree from Philadelphia University, where he has served as an adjunct professor and advisory board member to the School of Business. Fluent in Italian, Sal was born in Palermo Sicily, immigrated to the United States in 1968, and became a citizen in 1986.
Incredible Impact
With his incredible legacy of impact, we aren't the only ones with wonderful memories of Walt and his incredible work. Here's what others had to say.

The Chamber Of Commerce for Greater Philadelphia
"Walt has been a Chamber leader for decades. He served as Chair of the Chamber from 1990-1991 and remains a member of our Executive Committee today. He was given the William Penn Award, the highest honor bestowed upon a business person in the Greater Philadelphia business community, in 1997. He has served as a mentor to generations of Chamber executives and his guidance and support were valued by all."

John Grady
PIDC President, 2011-2019
"At his core, Walt is an incredibly genuine, straightforward person who is full of integrity. Being from the Pittsburgh area, he's got that Midwestern quality about him. In addition, he's an incredibly smart person who has learned from his experiences. He is very open about sharing his experience and allowing you to develop your own while using his as a guide. I don't think there's any individual who has done more over the years to expand and diversify (Philadelphia's) economic base through both the public and private sectors than Walt."

Peter Longstreth
PIDC President, 2001-2011
"He has a very interesting combination of very high principles and very strong feelings, but he doesn't impose those ethics or personal policies on someone in a very heavy-handed way. He does it in a way that's very rational and non-judgmental. In a way, he's very convincing in the case he's trying to make without imposing."

William Hankowsky
PIDC President, 1989-2001
"I think he does care deeply about the city of Philadelphia, that it succeeds and prospers. And I think he also cares a lot about people, the interaction with people. It's a two-way street. I think it benefits him and keeps him engaged."
Craig Schelter
PIDC President, 1983-1985
My relationship with Walt began in 1968 when I joined the Philadelphia City Planning Commission (PCPC) to work as Center City Planner directly with Ed Bacon. Part of my responsibilities then were reviewing all activities at the Philadelphia Redevelopment Authority (RDA) in Center City urban renewal areas (Market Street East, Independence Mall, Society Hill, Washington Square West) that required PCPC approval. While working with individual project managers in each area it immediately became clear that Walt was the leader that everyone at the RDA turned to for planning and development policy and political advice. And while Bacon preached vision, Walt delivered implementation, always with a sense of humor and professionalism. He never let perfection be the enemy or get in the way of the good. Serving five mayors (Tate, Rizzo, Green, Goode and Street) we worked together under his constant guidance that continuous renewal happened best when there was a consistent message to the business and investment community. And probably most importantly kept this city planner sane during the Rizzo and Goode administrations.
In my memory, our best joint effort was the Four Seasons Hotel and One Logan office building on Logan Square. It was 1979, the end of the Rizzo administration, Walt was heading PIDC and I the PCPC, and the stars seemed to align with a great Chicago developer, the perfect hotel tenant, a first-class New York architect, a major Philadelphia insurance company and landowner. It was August and all City government needed to do was to pass three ordinances; changing the lines and grades of the Benjamin Franklin Parkway, changing the zoning restrictions regarding Parkway design controls, and selling a piece of the Parkway on Logan Circle to a private developer, all requiring the approval of the Art Commission, Fairmount Park Commission, Planning Commission in addition to City Council.
With just four months remaining in the Rizzo administration, Walt said, "let's make it happen" and we did. And just two months into the next administration, Abscan happened, taking down three members of City Council that would have had a crippling effect on bringing such a quality product to fruition and its effect of expanding the business core of Center City.
In 1983 near the end of the Green administration, I was encouraged to take the top job at PIDC to move the planning of a new Center City Convention Center into implementation. Walt, having left PIDC for real estate finance at Latimer & Buck, was then the key real estate development consultant for the Reading Company's convention center proposal. And again, it was Walt's playbook and PIDC staff that cleared the pathway for RDA land acquisition for the new center.
By 1985, Walt was chairman of PIDC and the legendary godfather. He knew everyone, politicians trusted his ability to deliver, every developer sought his blessing on project financing, and he still kept his sense of humor as well as what seemed like an uncanny ability and time to tinker with old cars and craft his own golf clubs.
He was a huge supporter of PIDC staff as it grew into major project management, venture capital, complicated lending, and eased into the world of computerization. He broadened the board membership and built business depth and political savvy into the presidency of PIDC while simultaneously supporting long term development relationships with the eds and meds sector and the complexities of defense conversion, giving substance to public private partnerships in the arts. PIDC's professional reputation grew nationally with award winning projects from CUED and AIA and staff exposure to ULI.
Walt also managed with developer Ed Brown to give a remarkably useful graduate course at the University of Pennsylvania for students from both Wharton, Fels and Penn Architecture Schools on what different perspectives were necessary to achieve worthwhile real estate development. In the course of a semester, several professionals from city government, the consultant world, and private sector lectured from the various perspectives of owner, lender, designer, lawyer, planner, public sector, broker. After each lecture, a small group of students were invited by Walt to dinner on campus. As a final course objective, the students were teamed to create a complete real estate development proposal for a specific site in Philadelphia. And here was the ultimate win/win experience. The students learned the complexity of development from a master and his colleagues. The PIDC got to know the students that would become a deep bench of new talent (with many hired by PIDC). And the city of Philadelphia retained real talent from lots of other places. Everyone loved the course except the U of P administration who ultimately decided the course was too practical.
Happily, for me, that mentorship and friendship continued when I retired from PIDC in 2002. Not two months into retirement Walt counseled my startup consulting business and provided me both a center city home at Legg Mason, then Northmarq Advisers and then added support of the growth and development of the Development Workshop to become a respected voice of the development community before city and state government.
While I have felt blessed for over 50 years in Philadelphia to have worked with many savvy, solid professional colleagues, friends and confidants, none have had a longer, greater, more human influence in my life than Walt D'Alessio.
More About Walt's Impact
September 18, 2023
PIDC Announces Recipients of the 2023 PIDC-D'Alessio Scholarship for Urban Development
PIDC is proud to announce the fifth-round recipients of the PIDC-D'Alessio Scholarship for Urban Development. The scholarship was launched in 2019 to support graduate students at Philadelphia schools seeking to pursue a career in urban development and finance. The scholarship was created by PIDC in recognition of M. Walt D'Alessio's decades of commitment and leadership
Read More