CAPITAL YOU NEED TO GROW
To understand your business beyond the numbers, PIDC takes a holistic approach to help you access the capital your business needs to thrive while supporting you to build capacity with knowledge and resources. PIDC can often help fill funding gaps critical to complete the overall capital stack and is complementary to other financing provided by traditional lenders. PIDC offers flexible financing that can be in a senior or subordinated lien position even if you've been turned down by other lenders.
CONNECT WITH US
PIDC has financing resources to serve the unique needs of businesses, nonprofits, and real estate developers, including those that are BIPOC (Black, Indigenous, and people of color)-, women-, veteran-, immigrant-, disabled-, and LGBTQ+ owned and operated.  
Find out how we can connect you to the capital or information you need to grow.
BUSINESS LOANS
PIDC delivers the flexible capital that businesses and nonprofits need to succeed and grow in Philadelphia. We offer term loans and affordable contract receivables financing to help businesses of all sizes meet their operational goals.
Learn More
COMMERCIAL REAL ESTATE
PIDC provides a range of financing solutions for the acquisition, renovation, and new construction of owner-occupied and investment real estate projects. We can even finance the fit-out of commercial owner-occupied or third-party tenant space. 
Learn More
TAX-EXEMPT BOND FINANCING
PIDC, through the Philadelphia Authority for Industrial Development (PAID), is a trusted issuer of tax-exempt bond financing for Philadelphia-based nonprofit organizations and other eligible borrowers. By lowering the cost of private capital, tax-exempt bond financing supports the development and expansion of cultural facilities, affordable housing, healthcare and educational institutions, and other community facilities, as well as certain manufacturers.
Learn More
GRANTS ADMINISTRATION
As a trusted conduit for the City of Philadelphia, Commonwealth of Pennsylvania, and private funders, PIDC administers several state and local government grant initiatives. PIDC helps eligible businesses, nonprofits, and development projects to understand available grant programs, connect to apply, and take grantees step-by-step through the funding process, if awarded. 
Learn More
NEW MARKETS TAX CREDIT
The New Markets Tax Credit Program (NMTC Program) helps economically distressed communities attract private capital by providing investors with a Federal tax credit. PIDC Community Capital, a private, nonprofit subsidiary of PIDC, is a certified community development entity (CDE) that has been awarded $418 million in NMTC allocation between 2007 and 2022.
Learn More
EB-5
The Welcome Fund (EB-5) Loan provides low-interest senior or subordinate financing for large-scale, job-creating projects in Philadelphia by leveraging immigrant investment. The program is under the oversight of the United States Citizenship and Immigration Services (USCIS), which has approved PIDC and CanAm Enterprises to serve as a Regional Center for Philadelphia.
Learn More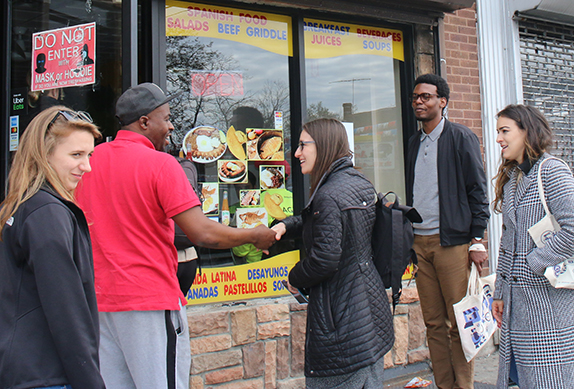 ADDITIONAL RESOURCES
PIDC partners with the City of Philadelphia, the Commonwealth of Pennsylvania, and local organizations to bring additional resources to Philadelphia and connect you to partners who can help you reach your goals.
Partnerships
Business Support Services
PIDC offers multiple business support services designed to support business growth.
Business Support Services
WE ARE MISSION-DRIVEN
PIDC invests flexible, affordable capital in growing companies because we know that local businesses create jobs, build wealth for entrepreneurs, and support neighborhood growth. Let us help your business grow