by PIDC
April 20, 2022
In coordination with United by Blue (UBB), in December 2021, PIDC facilitated a clean up of a Bartram's North property located north of 49th street near Botanic Avenue in Kingsessing. As a sustainable clothing and accessories brand, UBB removes one pound of trash from oceans and waterways for every product purchased. Through UBB's commitment to sustainable materials, ethical manufacturing, and a zero-plastic policy, it is always searching for better ways to put the planet first, and PIDC is proud to have assisted them on this mission.
---
292,160 lbs
Trash Removed
---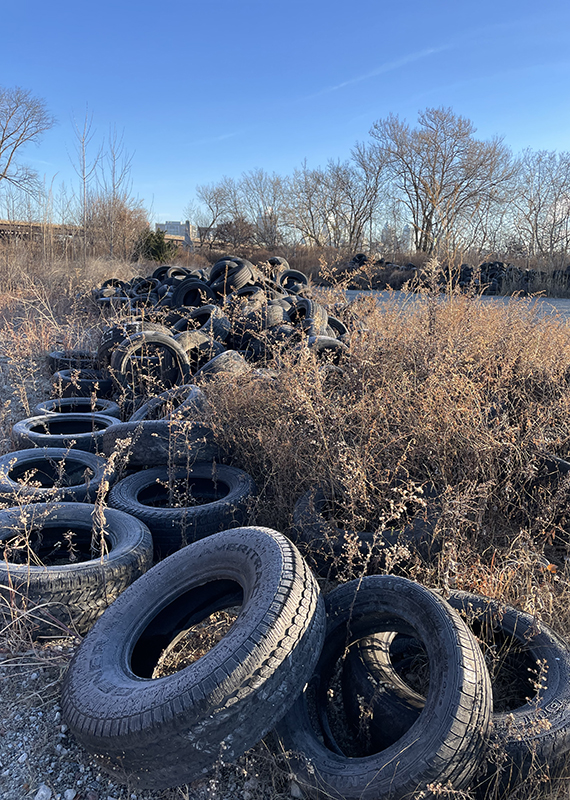 A total of 292,160 lbs of trash were removed from both the PIDC parcel and some surrounding areas, including 51st and Grays Avenue and South 49th Street. UBB worked with the City of Philadelphia Department of Streets over the course of five days at the site and neighboring streets. The two entities were initially connected by the Philadelphia Water Department, which is invested in the cleanup of the area due to it being a floodwater zone. To complete the project, the City contributed heavy machinery and labor to clean up the dumped debris while UBB served as the logistics coordinator between all parties involved.
PIDC is committed to addressing long standing community concerns toward trash, short dumping, and litter along the streets in Kingsessing. By partnering with UBB to remove nearly 300,000 pounds of trash from this neighborhood, we are following through with that promise.