by PIDC
March 1, 2016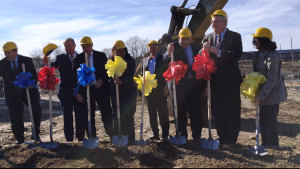 State and city officials and community members today joined Mayor Jim Kenney, project developer David Groverman, and PIDC for a groundbreaking ceremony at Plaza Allegheny, an 85,000 square foot mixed-use, retail shopping center in North Philadelphia's Fairhill neighborhood.
The $16 million development project is expected to create 140 permanent jobs in the community.
"This groundbreaking marks the beginning of a transformation for the Fairhill neighborhood that will lead to a major economic boost," said Mayor Kenney. "Plaza Allegheny will not only help revitalize community, it will also bring much needed job growth to an area that has one of the highest unemployment rates in Philadelphia."
Plaza Allegheny will be built on more than nine acres of land that had been the site of several junkyards, an abandoned Conrail spur, and city-owned vacant lots, all of which contributed to the deteriorating condition of the surrounding community. The new retail shopping center will feature a variety of amenities, including medical and dental services, pharmacy, a Save-a-Lot super market, legal services, auto repair, postal shipping, and fitness center.
"Plaza Allegheny will beautify the Fairhill neighborhood while also providing great amenities for this underserved community," said David Groverman, project developer for Plaza Allegheny. "There are 65,000 people living within a one mile radius of the development and yet 75 percent of retail spending in this community is spent outside of this geographic area. With the creation of Plaza Allegheny, the community will have far greater choice of goods and services located where they live."
Located across the street from Maria De Los Santos Health Center, the largest provider of primary healthcare services to Latinos in the city, Plaza Allegheny is situated in the heart of Philadelphia's Latino community where approximately 85 percent of the city's Hispanic population resides. Tuesday's groundbreaking was attended by representatives of development partner HACE along with numerous state and local officials, including City Councilwoman Maria Quiñones-Sanchez, State Senator Christine Tartaglione and Pennsylvania Department of Community and Economic Development Secretary Dennis Davin.
"Projects like Plaza Allegheny provide critical goods, services and job opportunities to neighborhood residents," said John Grady, president of PIDC. "PIDC is proud to have been able to bring together our financing and real estate resources, in partnership with the City and State, to support the transformation of a vacant and blighted site into a productive asset that promotes economic growth in this community."
Financed by PIDC and Tompkins VIST Bank with Business In Our Sites funding from PA Department of Community and Economic Development, the $16 million project is being developed jointly by David Groverman and Rich Lepow with support from HACE Community Development Corporation. Legend Properties, Inc is the tenant broker for the project. Plaza Allegheny is expected to open in Fall of 2016.
Media coverage of the groundbreaking below.
Philadelphia Inquirer – http://mobile.philly.com/beta?wss=/philly/business/homepage&id=370583421
Curbed Philly – http://philly.curbed.com/2016/2/29/11132882/fairhill-plaza-allegheny-center-groundbreaking
AL DÍA News– http://aldianews.com/articles/local/philadelphia/developers-hope-boost-job-growth-shopping-center-fairhill/42460