by PIDC
July 12, 2023
On June 1, 2023, Jodie Harris officially assumed the role of president of PIDC after serving nearly five years as the director of the Community Development Financial Institutions Fund (CDFI Fund) with the U.S. Department of the Treasury in Washington, D.C. Jodie made history as the 12th chief executive and the first African American woman to serve in the role of president in PIDC's 65-year history. After returning to her hometown of Philadelphia to take on her new role, she's optimistic about what's to come and passionate about moving PIDC's new Theory of Change and Strategic Framework forward.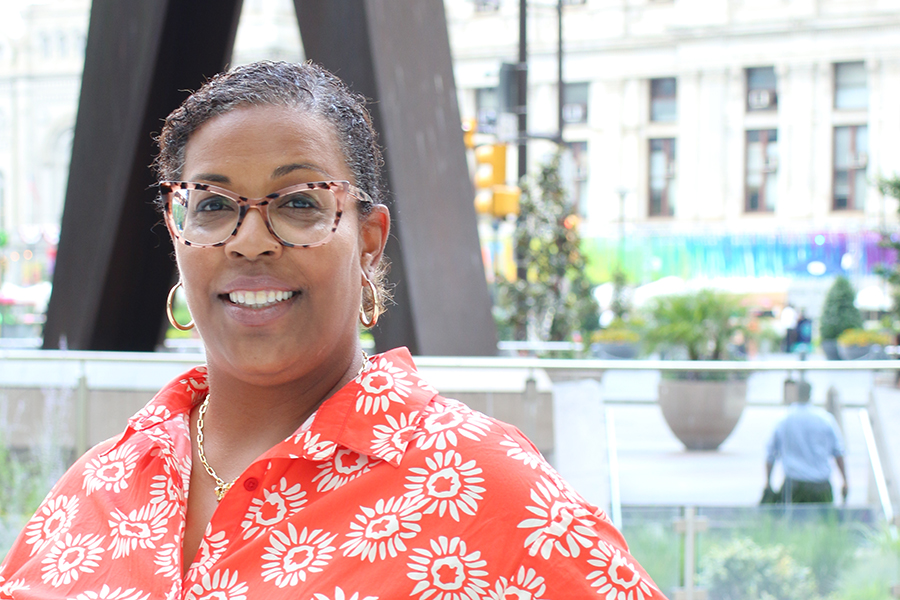 We recently sat down with Jodie to discuss her outlook on Philadelphia, our city's economy, how she plans to drive economic development, and what excites her the most about returning to her hometown of Philadelphia to live and work. Plus, we got the scoop on what she likes to read, what sports teams she roots for, and her top hometown musical artists to listen to when she unwinds from a busy day.
Read on for an engaging and informative conversation with our new president, Jodie Harris.
PIDC: What excites you the most about leading an economic development corporation in your hometown and what drove you to make the decision to return to Philadelphia to work with PIDC?
JODIE: That's a great question! I love when people ask me about coming back because I feel like the question partly answers itself. I am coming back home, and that's really important to me. I have always been proud to be from Philly. I think for those who are proud of where they are from, being presented with an opportunity to return and have an impact on what happens in their city, it's an easy, and very rewarding, decision.
Coming back to do economic development brings me full circle to where I started. I began my career in Philly in 1989 working as a commercial real estate analyst for a regional bank. At that time, we didn't really call projects financed in neighborhoods community development. We were working with churches, community development corporations, and other nonprofit organizations, but internally, that work was all part of the real estate group. There wasn't a community development part of the bank. As time went on and I got more experience, I realized that's what we were doing: community economic development.
I left Philly with a goal of working on economic development in other places, but other opportunities arose. Working with CDFIs in various roles in D.C. the work we did was so important but it was also a few levels removed from the ground. Coming back to Philly is important because I'm actually going to see PIDC's transactions come to life. I'm going to see the direct impact our work has on our neighborhoods, on residents, on people I grew up with. Seeing that impact in action is going to be really fulfilling personally and professionally.
Plus, my family is still here. Lots of friends are still here. It's nice to have memories pop up from when I was here 30 years ago, to see how much has changed and also how much more work we also have to do. I'm enjoying being back in Philadelphia.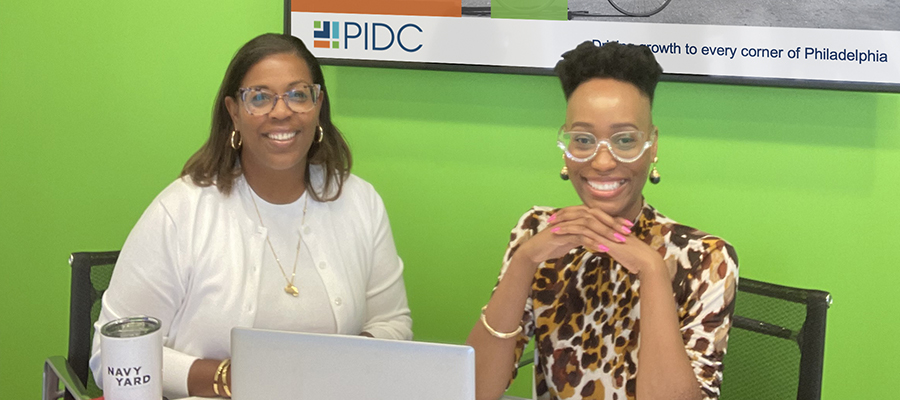 PIDC: Philadelphia is facing its fair share of challenges and is also in the midst of much transition at the local level. How do you plan to work with leaders across sectors to move our city forward?
JODIE: While transition can be difficult, transition also presents an opportunity. It not only gives me a chance to establish relationships with new leaders in the city, it can also help us approach our work with new lenses and perspectives.
I think it's a good time to establish new priorities and new initiatives. I'm looking forward to learning what those new priorities and initiatives are, not just in terms of individual neighborhoods or communities, but for the city as a whole.
At the same time, as I learn more about PIDC's strengths and where our unique competitive advantage is, I can address how we as an organization use our resources to help achieve some of those priorities and initiatives. I look forward to building upon our cross-sector partnerships with institutions to achieve some of the city's priorities and goals while at the same time identify where there may be gaps. I want to ensure PIDC is strategically positioned to enter into new spaces and expand our reach to help fill some of those gaps.
I see Philly moving toward a broad comprehensive plan that includes not just bolstering Center City's business core, but also bringing equitable development to all neighborhoods, and truly driving growth to every corner of the city.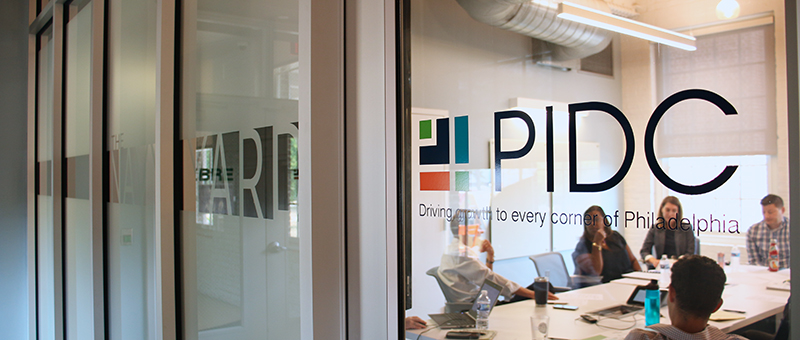 PIDC: Are there any particular industries or sectors that you believe hold great potential for growth in Philadelphia? How do you plan to tap into those opportunities?
JODIE: That's a really good question. It's been almost thirty years, so I'm still assessing what has taken place in Philadelphia in terms of economic development since I left. I do know, just from personal experience and seeing the work that PIDC does so far, that activating underutilized properties and pieces of land is a big part of bringing economic activity into places that haven't historically seen it.
Another thing I know is that small businesses have always been an engine for Philadelphia in terms of economic growth. I'm really excited to see us do more small business lending and tap into the many places where our small, diverse businesses need resources to grow and expand. I'd like to explore ways to tap into places where there isn't a whole lot of small business activity so we can help generate some of that.
But it also goes beyond financial lending. Businesses everywhere need technical assistance and access to resources. Philly has also been able to capitalize on its strengths as an affordable northeast major city and has been able to grow certain industries, such as education and medicine and making Philadelphia a hub for life sciences. Just look at the growth at the Philadelphia Navy Yard over the past few years, driven by PIDC and our partners; it's incredible.
We also have untapped hubs. One of the largest media and technology companies in the world is here: Comcast. What other types of global institutions can we tap into or help expand to Philadelphia? How do we create strategies to market Philadelphia as a preeminent business destination? I think there's a lot of opportunity there.There's so much here – arts and culture, true neighborhood identities, our amazing food scene. We can work together to capitalize on that and promote our city more.
PIDC: Since moving back to Philadelphia, have you discovered any hidden gems or local favorites that weren't here before you left? Any must-visit restaurants, parks, or cultural spots you've come across?
JODIE: It's funny because I've only been here for a few weeks, so I haven't gotten to visit all my old spots. I'm happy to see that some of them are still around. One thing I've noticed is that the diversity of the city has increased tremendously. While growing up, it felt, at times, like a pretty segregated city. You did everything in your neighborhood, your family lived in walking radius. I was in Mount Airy, so we went to Wadsworth Avenue, Cheltenham Mall and MontCo to do our shopping. You pretty much did everything in your neighborhood or close to home. Philadelphia still faces some of those challenges, but now, I feel like those invisible lines are crossed so much more frequently, and that's a good thing. Today, you have concentrations of different people and cultures, but it's much more accessible if you're not from that area.
The food scene has also grown since I lived here. There are so many options from so many different countries and cultures. Africatown, which has been around for decades, is an incredible example of Philly's immigrant-driven growth over the years. And I never knew about it living in Mount Airy as a kid. Now, Philadelphia feels like a different place where you can experience so many cultures that call our city home.
Another positive thing I've noticed: downtown has far more activity. When I worked here thirty years ago, after 5 p.m. it was quiet. There weren't many places to go and there was nothing to do. Now, I am taking time to walk, look around, and take note of all the different shops, restaurants, and the different people here–day and night.
It feels like everything in the city is more open and inviting, and people can participate in more things than they could when I was growing up. And I love that.
And that's also what can help us make Philadelphia a destination for the larger companies, like Comcast, Aramark, Urban Outfitters, and whoever wants to come here. Companies want to make sure their employees have the opportunity to live in a place that has access to many amenities, equitable resources, and other factors that drive a positive quality of life for their workforce. To attract larger businesses to move to Philadelphia, you have to bring people and support small businesses. And we have to support our homegrown businesses, too.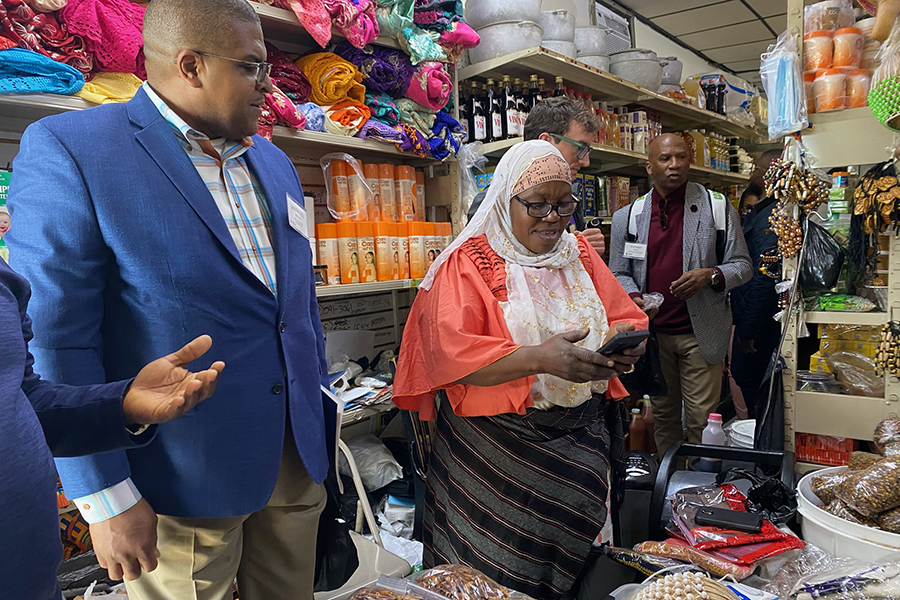 PIDC: Being a leader can be a busy task. What do you like to do to unwind?
JODIE: I've always been an introvert, which is sometimes a surprise to people, especially being in a leadership position. So I recharge by doing quiet, often solo things: crossword and logic puzzles, reading, watching British mysteries. I like to sit outside and people watch. I used to be an avid runner, and I'm looking forward to getting back into that now that I'm in the city.
PIDC: What do you like to read?
JODIE: I read everyday. I prefer fiction, especially mystery or contemporary fiction. I try to balance it out by reading nonfiction as well. I've been reading a lot about race in this country and in general, including must reads like The Color of Law and The Color of Money, and Caste.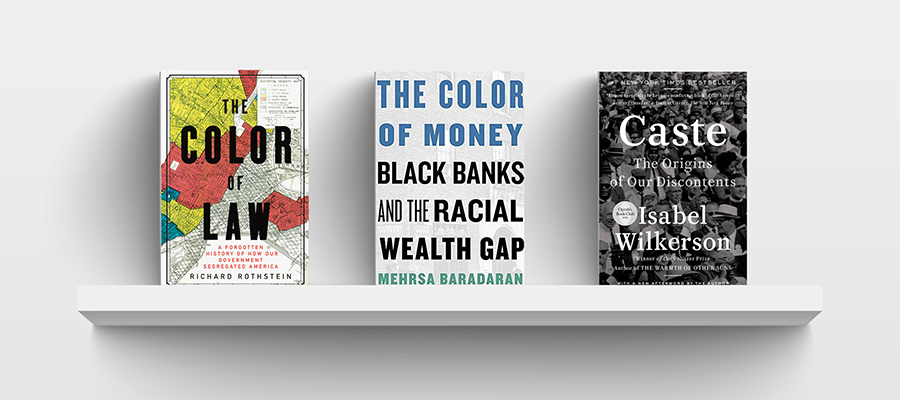 PIDC: Who's your favorite artist from Philadelphia?
JODIE: That's tough, because there are just so many! In general, I'm an R&B and hip hop fan. I really like "old" Philly music – Hall & Oates, Teddy Pendergrass, anything from Gamble and Huff. If it has that Philadelphia sound, especially when the horn section comes in, I'm like, "yeah, I like that."
PIDC: If you had to pick one franchise sport in Philadelphia, what would you choose?
JODIE: The Eagles. Go Birds (but I root for the Phillies, Sixers, Flyers, and Union, too)! Sometimes I forget I'm not back in D.C. and I get excited seeing people in Eagles gear. I've said "Go Birds" to a few people on the street and got the Philly side-eye.
PIDC: Is there anything else that you would like to share?
JODIE: I'm excited to be back in Philadelphia for a number of reasons. Working and living in the city, exploring different neighborhoods, seeing my family on a more regular basis. At PIDC, I am really excited about seeing all that we do, how we move our city forward, and how we can partner with the City and will work with the new leadership to do that. I look forward to seeing how our work translates into benefits for all neighborhoods and all residents.
GET TO KNOW PIDC
Learn more about who we serve, what we do, and our impact.