by PIDC
September 17, 2023
*Photo Header Above: Boricua Restaurant, Navy Yard: Alpha Sacred Being, Poth Brewery Lofts, ACANA: African Cultural Alliance of North America, Lil' Pop Shop's & Weckerly's Popalong, & Rae's Roots

PIDC plays a critical role as a trusted conduit to increase access, reduce complexity, and successfully deliver economic development resources from our partners to a broad range of clients to support high impact community revitalization projects in Philadelphia. PIDC structures and deploys public and private capital for clients and projects by administering grant programs on behalf of the City and Commonwealth and issuing tax-exempt bonds to help nonprofits raise private capital for major projects.
$627.3M
Invested in transformative community projects where PIDC serves as a conduit
$553.9M
Tax exempt bonds, which provide a path for major projects to move forward
$55M
in grants administered on behalf of partners
$18.4M
In loans through the Welcome Fund, which provides low-cost capital for large-scale projects that create significant job growth by leveraging investment by immigrants
FACILITATING TAX-EXEMPT BONDS
PAID, which is managed by PIDC, is a public authority created by the City of Philadelphia. PAID issues tax-exempt bonds for projects undertaken by nonprofit organizations, qualified manufacturers, and other exempt organizations and the City of Philadelphia. In 2022, PAID issued approximately $553.9 million in tax-exempt bonds in support of seven projects across Philadelphia in three key investment areas: education, arts & culture, and healthcare. These tax-advantaged investments increase access to and successfully deliver economic development resources to a broad range of clients.
TAX-EXEMPT BONDS IMPACT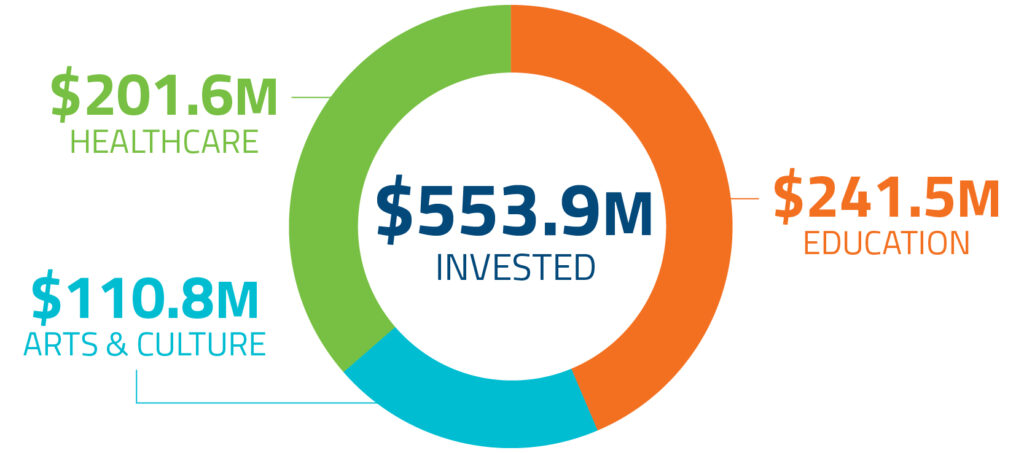 St. Joseph's University
St. Joseph's University issued $200,000,000 in tax-exempt bonds in 2022.  The proceeds of the 2022 bonds will be used by the university to finance the design, construction, renovation, and/or equipping of educational and related facilities. In addition to the costs of issuance, this includes, but is not limited to, a residence hall, student center, academic buildings, a parking garage, and/or a science center on the University's Hawk Hill Campus.  The University's Hawk Hill campus is an approximately 125-acre campus located within Philadelphia and the Township of Lower Merion in Montgomery County.
---
GRANTS PROMOTING RESILIENCE IN PHILADELPHIA
In 2022, PIDC administered 54 grants totaling $55 million for projects on behalf of the Commonwealth of Pennsylvania, City of Philadelphia, and the Philadelphia Water Department.
GRANTS ACROSS PHILADELPHIA IN 2022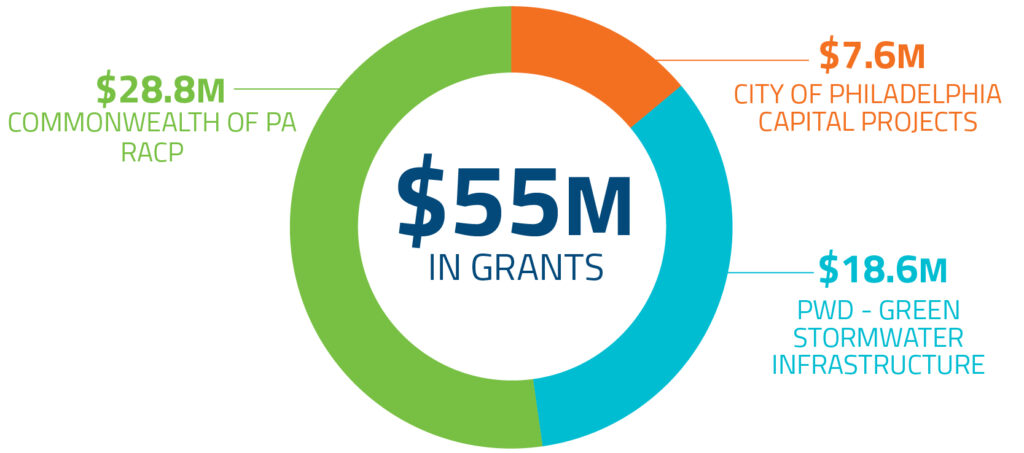 Commonwealth of PA – Redevelopment Assistance Capital Program (RACP)
A grant funded by the PA Office of the Budget for the acquisition and construction of economic development, cultural, civic, recreational, and historical improvement projects.
Special People in Northeast
Special People in Northeast (SPIN), a social service provider who helps people of all ages with intellectual or developmental disabilities, recently finished the construction of a new early childhood education center with $850,000 from the Redevelopment Capital Assistance Program. This new facility houses eight classrooms and an indoor/outdoor play space. This expansion will allow space for 40 additional students.

City of Philadelphia – Capital Project Grants
Investing in public works and community development across the city
Pattison Playground at FDR Park
The local nonprofit Fairmount Park Conservancy leads capital projects and historic preservation efforts, fosters neighborhood park stewardship, attracts and leverages investments, and develops innovative programs throughout the approximately 10,200 acres that include Fairmount Park and more than 200 neighborhood parks around Philadelphia. Fairmount Park Conservancy is currently working on the FDR Park Master Plan. The plan includes the creation of the new Pattison Playground at FDR Park that is designed with sustainability in mind and fully Americans with Disabilities Act (ADA) accessible.
This $2.4 million grant helps fund a new world class playground consisting of 93,000 square feet of improvements, including custom play equipment and climbers along with associated structural footings. A picnic pavilion, outdoor furnishings, a water fountain, and a hose bib support the new play infrastructure. The project includes 30 new trees along with the preservation and maintenance of 20 existing trees.

Philadelphia Water Department – Green Stormwater Infrastructure Grants
Funds the design and construction of stormwater retrofit projects on commercial, industrial, multifamily, and institutional properties
Stormwater Management Incentives Program (SMIP): Stadium District SMIP – First Pennsylvania Resource, L.L.C.
Stormwater management projects help capture rainwater, decrease flooding and sewer overflows, and reduce pollution. In 2022, PIDC structured the second largest shared stormwater management project in Philadelphia for the parking lots near Citizens Bank Park, which comes one year after also structuring an even larger stormwater project in 2021 on the site of a vacant warehouse near Citizens Bank Park.
This project, constructed in three phases starting in 2023, will manage 60 green acres around the Phillies' home. When completed, it will manage 29 million gallons of rain each year. To put that in perspective, that equals nearly 44 Olympic-sized swimming pools.
OUR FINAL CORE STRATEGY:
3. Catalyze Opportunities for Inclusive Growth