by PIDC
September 17, 2023
*Photo Header Above: Boricua Restaurant, Navy Yard: Alpha Sacred Being, Poth Brewery Lofts, ACANA: African Cultural Alliance of North America, Lil' Pop Shop's & Weckerly's Popalong, & Rae's Roots

INDUSTRIAL LAND DEVELOPMENT
While land sales were limited this year, it was an active year for commercial and industrial land sales as PIDC continued to position land for development at the Navy Yard and on the Lower Schuylkill River, with activity ramping up over the next few years.
African American Museum in Philadelphia & Free Library of Philadelphia
In summer 2022,  the City of Philadelphia announced the African American Museum in Philadelphia (AAMP) will relocate to the Benjamin Franklin Parkway as part of the redevelopment of 1801 Vine and 1901 Wood Streets. The 240,000 square foot historic former Family Court building and the approximately 88,000 square foot adjacent lot will not only become the new home for AAMP, but it will serve to implement the Free Library of Philadelphia's  plan for 1901 Wood Street which includes the addition of a 60,000 square foot children and family center, auditorium, storage, and administrative office space to the Parkway Central Library. PIDC is helping manage the process of selecting a proposal for development. Three development teams were short-listed to submit proposals for the sites and progress on this project continues to move forward in 2023.
African American Museum in Philadelphia
Olivieri & Associates
Olivieri & Associates, is a woman-owned heavy-highway construction company. As a long-time tenant of another PIDC client located in South Philadelphia, Olivieri & Associates consolidated operations by working with PIDC's real estate services team to purchase available land in Eastwick Industrial Park. PIDC's business lending team filled financing needs for the project.  This project was supported by a $1 million Pennsylvania Industrial Development Authority (PIDA) loan (closed in 2023) from PIDC and a matching loan from PIDC's longtime partner and investor, TD Bank.  This transaction was unique as PIDC usually works with business owners to see if there is an opportunity to introduce financing into a real estate development project prior to greenlighting a PIDC land sale. However, Olivieri & Associates was already an established, long-time PIDC client who later found an opportunity to purchase land from PIDC to develop a new and modern space they could own. The real estate purchase also concludes PIDC's nearly 40-year involvement in Eastwick Industrial Park.
Olivieri & Associates
---
SUSTAINABLE LAND VENTURES
PIDC invests in both sustainable and equitable projects by supporting job growth, economic growth, and preservation of natural resources. Here are ways in which PIDC contributed to building a healthy city and economy by investing in sustainable land development projects.
Planting Trees to Mitigate Neighborhood "Heat Island" Effect
Working closely with City Council, the Philadelphia Department of Parks and Recreation, and the Philadelphia Commerce Department, PIDC was instrumental in developing legislation that will generate approximately $1.2 million to plant trees in portions of Philadelphia with little tree coverage by linking development of job sustaining investment on our industrial portfolio. This project will mitigate neighborhoods experiencing the "heat island" effect – higher temperatures than outlying areas.
Lower Schuylkill
Over the last decade PIDC has worked to assemble and remediate 60 acres of contaminated industrial land along the western bank of the Schuylkill River in Southwest Philadelphia. A total of 20 acres have been given to the City for public open space and extensions of the Schuylkill River Trail.
Lower Schuylkill Biotech Campus
The remaining two sites totaling 40 acres, which are known as Bartram's North and South due to their location adjacent to historic Bartram's Garden, have been prepared to support new investment and development as part of the future Lower Schuylkill Biotech Campus (LSBC). Consistent with the City of Philadelphia's Lower Schuylkill Master Plan, these sites will support up to 850,000 square feet of cell and gene therapy and advanced manufacturing space, attracting up to $550 million in investment and creating upwards of 900 to 2,800 jobs. PIDC is committed to ensuring that the development process is equitable, inclusive, and benefits the nearby community. When successfully realized, the LSBC will be a competitive home for the nation's leading biomanufacturers and the advancement of cures. Neighboring the core research institutions and drug development firms of University City in the heart of the Lower Schuylkill Innovation District, LSBC is bounded by the beauty and biodiversity of the riverfront, a historic botanic garden, and the community of Kingsessing in Southwest Philadelphia.
Learn More
Blossom at Bartram's Complete Streets Project Study
Southeastern Pennsylvania Transportation Authority (SEPTA), in partnership with PIDC and the City of Philadelphia, is taking a holistic look at all modes and users on Grays Avenue, Lindbergh Boulevard, 49th Street, and streets connecting to the Schuylkill River. This includes a portion of the Route 36 (T5) trolley. The Blossom at Bartram's Complete Streets Project aims to improve safety, public health, and livability including roadway improvements, access to jobs and redevelopment sites, and ensuring accessible, fast, and easy trolley service along a crumbling one-mile stretch of arterial streets in Southwest Philadelphia. This will help create a safe transit corridor that will benefit residents, visitors, and future development. The study scope includes not only elements of SEPTA's Trolley Modernization Program, specifically ADA compliant on-street stations for the Route 36, but a holistic look at all modes and users, particularly people walking and biking, on the corridor with a specific focus on roadway safety and access to economic opportunity. PIDC actively supports the project, carrying out improvements and continuing collaborative engagement efforts, helping ensure the project benefits residents as it brings historic levels of investment to the area.
Learn More
---
THE NAVY YARD
At the Navy Yard, 2022 was another major year for development, placemaking, and investment, building on the nearly 25 years of transformation PIDC has led in redeveloping the business district.
Navy Yard Plan Update
In June 2022, PIDC and Ensemble/Mosaic unveiled the 2022 Navy Yard Plan, a transformative roadmap for equitable growth that throughout the next 20 years will deliver 12,000 new jobs, 8.9 million square feet of new life science, commercial, residential, retail, and mixed-use development and $6 billion of new investment—of which, $4.8 billion will be generated by Ensemble/Mosaic's development initiatives. The dynamic new plan leverages sustained growth in advanced life sciences and manufacturing, increased accessibility, and inclusive mixed-use development to drive equitable economic growth, with robust opportunities for diverse businesses and an expansive array of quality-wage jobs and workforce development training programs.
Each facet of the plan has been guided by a set of principles, crafted to create a new standard of equitable development. These principles directly shape a plan for a Navy Yard that is inclusive and welcoming, connected and multimodal, vibrant and active, innovative and resilient, and a place for equitable business growth and job creation.
Development
In March 2022, Ensemble/Mosaic and Oxford Properties Group ("Oxford"), a leading global real estate investor, asset manager, and business builder, broke ground on 1201 Normandy Place, a speculative 137,000 square foot R & D lab building. The project represents the first new development initiated as part of Ensemble/Mosaic and Oxford's recently executed strategic partnership.
In September 2022, PIDC kicked off the Broad Street infrastructure improvement plan, an approximately $20 million project. This project will reconstruct a critical section of Broad Street (referred to as the Quay Wall), and officially broke ground at the end of July 2022. This will enhance safety and increase accessibility for the public and the 150 businesses and 15,000 employees at the Navy Yard. The Quay Wall overlooks the Navy Yard Reserve Basin and sits on top of a more than 120-year-old timber-bridge structure that has largely been submerged in the Delaware River and subject to the elements.
In fall 2021, Gattuso Development Partners broke ground on its newest construction project at the Navy Yard – 2500 League Island Boulevard. It is a premier Current Good Manufacturing Practice (cGMP) 130,000 square foot life science facility. The building reached substantial core and shell construction completion, without an occupants' interior customization, at the of 2022. The building also utilizes a 60,000-square-foot green roof to manage stormwater and reduce energy costs. At the end of core and shell construction, the team reported 40.73% minority, women, or disabled-owned business participation. In terms of the project workforce, minority and women made up 20.73% of the construction personnel and 27.21% of the construction personnel were local Philadelphia residents. These results were achieved through a consistent, coordinated effort between the entire development and construction team; it involved monthly oversight meetings throughout the construction with active participation and feedback from PIDC and the City's Office of Economic Opportunity.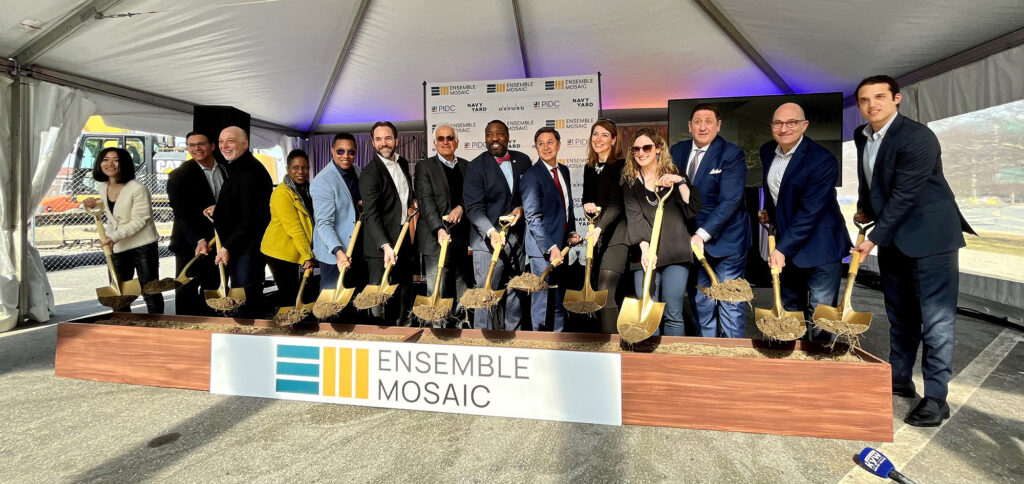 1201 Normandy groundbreaking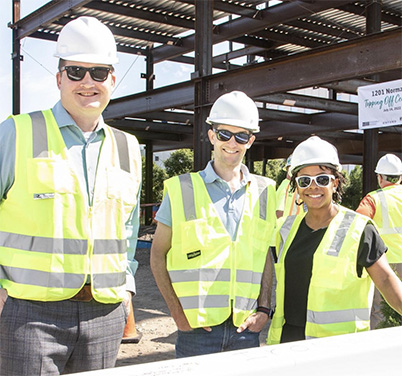 1201 NORMANDY: Raising of the Last Beam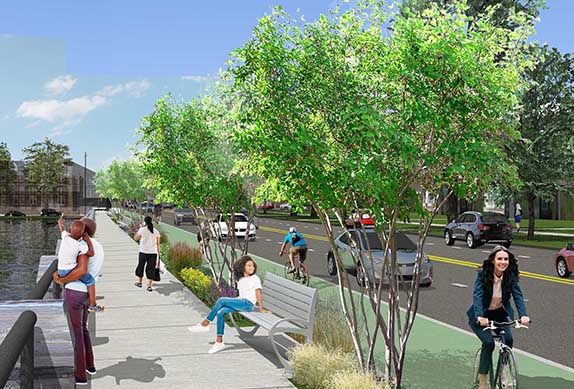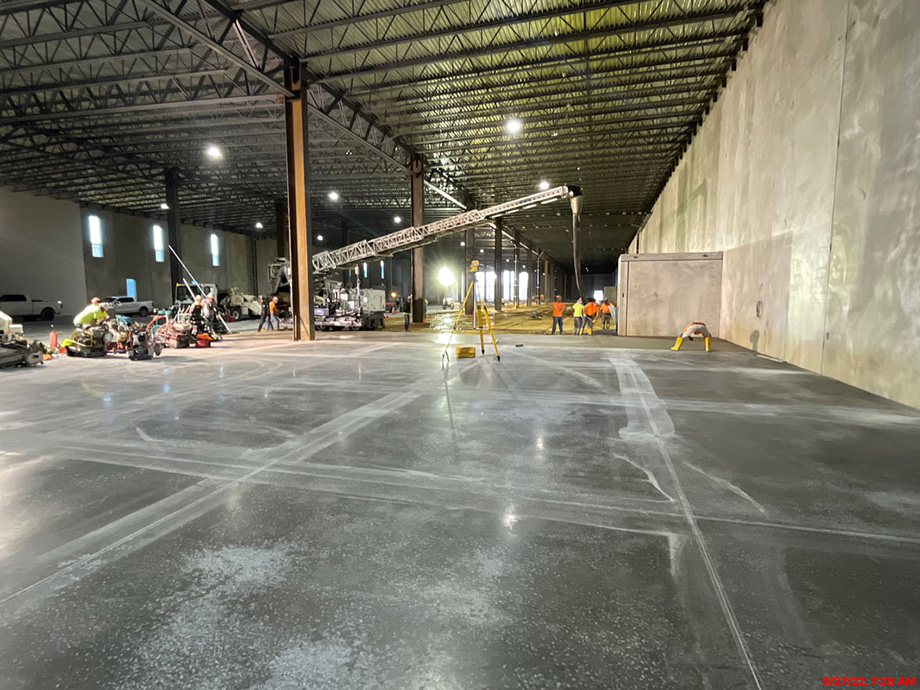 2500 League island blvd: construction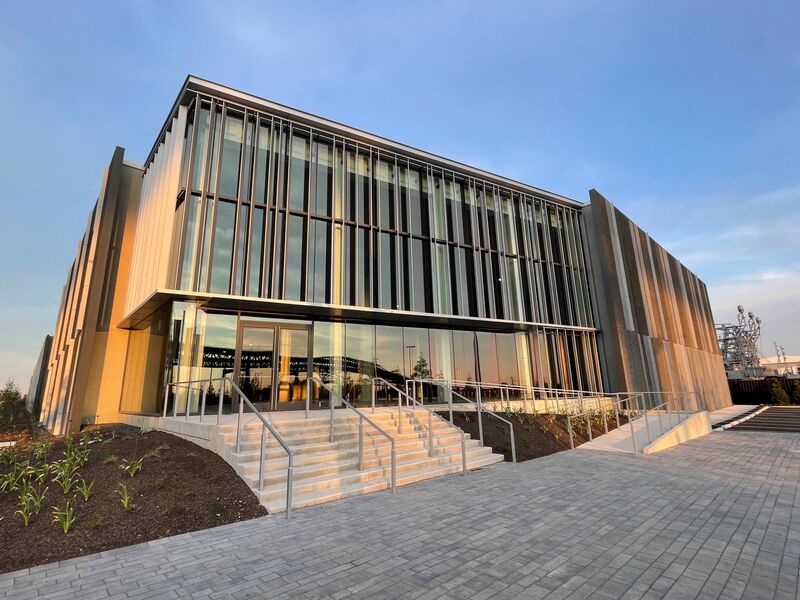 2500 League Island blvd: entrance
Energy at the Navy Yard
In December 2022, PIDC announced that Pennsylvania's first automated vehicle (AV) shuttle is coming to the Navy Yard. The zero-emissions shuttle pilot will consist of testing, training, and analyzing the shuttle's performance. Full deployment of the shuttle is expected in 2023 where it will become part of the existing shuttle service, which is critical to transporting workers, visitors—and eventually residents—to and within the Navy Yard.
Read Announcement
Navy Yard Skills Initiative
86%
Diverse Participation Rate
Navy Yard Skills Initiative
PIDC continued its collaborative professional development program with the University City District's West Philadelphia Skills Initiative (WPSI) to connect unemployed and underemployed Philadelphia residents from underserved communities to permanent, full-time, quality-wage careers at the Navy Yard. This award-winning workforce program trains and connects Philadelphians to roles with Navy Yard employers seeking talent and will build upon and expand the successful and proven WPSI professional development model. 
Learn More About Workforce
Award Winning
In 2022, the Navy Yard Workforce Skills Initiative (NYSI) implemented six workforce training cohorts and connected 94 participants with four Navy Yard employers: Philly Shipyard, Tasty Baking Company, Iovance Biotherapeutics, and Jefferson Health.  The Biomedical Technician Training Program with Iovance Biotherapeutics was recognized as the Workforce Champion of the Year in the 3rd Annual BioBuzz Awards for making measurable contributions to enhance the biotech workforce in the region.
More About Award
Public Art
Group X and the Navy Yard launched its fifth collaborative public art project, Alpha Sacred Beings (The Origin of Creation), which is a life-sized monument symbolizing a bridge between two Indigenous nations. This artwork and its concept were created by lead artist, Marianela Fuentes, whose previous works in her Sacred Beings series have roots with the Huichol or Wixárika Indigenous people of Mexico. This was the first Group X-curated exhibit that incorporated a formal unveiling with remarks from the lead artist and collaborators, ending with a moving performance from the Red Blanket Singers, a southern style Native American drum and dance group, as well as a 20-minute documentary showcasing the creative process.
THAT'S A WRAP!
This concludes our 2022 Annual Review. See you next year!